Welcome to Museum Archipelago in Your Inbox, which does exactly what it says on the tin. Museum Archipelago, your audio guide to the rocky landscape of museums, is hosted by me, Ian Elsner.
In the wake of the racist murder of George Floyd in Minneapolis, Black Lives Matter protesters in Bristol tore down a statue of Edward Colston, a prominent 17th Century slave trader. Protesters rolled the statue through the street and pushed it into Bristol Harbor — the same harbor where Colston's Royal African Company ships that forcibly carried 80,000 people from Africa to the Americas used to dock.
In this episode, we examine the relationship of statues and museums. Why do so many call for statues of people like Colston to end up in a museum instead of at the bottom of a harbor? Looking at examples from Dr. Lyra Montero's Washington's Next! project in the United States, American Hall of Honor museums for college football teams, and statues of Lenin and Stalin in Eastern Europe, we discuss the town-square-to-museum pipeline for statues.
Gallery Continues ⏭️
Dr. Lyra D. Monteiro provides some very helpful context for the "slippery slope" argument against removing statues like Colston's on this episode of Museum Archipelago released on March 16th, 2020.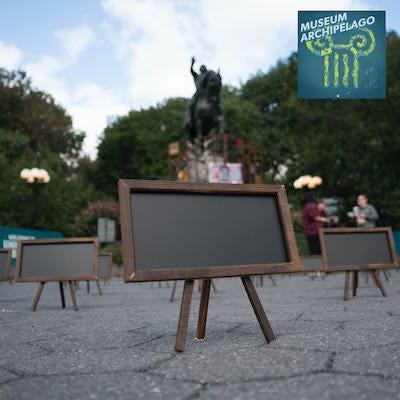 Archipelago at the Movies 🍿Night at the Museum 3: Secret of the Tomb (2014)
Archipelago at the Movies is bonus series available only on Club Archipelago. Each episode, we dive deep into a movie about museums, and try to understand out what it says about the museum landscape.
The third installment of the Night at the Museum trilogy opens with a shot of an American-British archeological expedition in Egypt in 1938. Because it's a joint expedition, we're told, the objects are shipped out of Egypt and divided up between the Natural History Museum in New York and the British Museum in London. I admit I was a little excited when I watched the first scene: maybe the movie will finally comment on colonialism in museums?
It does not.
Instead, Night at the Museum 3: Secret of the Tomb (2014) recklessly upholds vague notions of museum neutrality and colonial collecting while making a few confusing points about the importance of family. It's a terrible movie, but thanks to returning guest Ian Kelly, it's a great episode of Archipelago at the Movies.