80. British Museum Curator Sushma Jansari Shares Stories and Experiments of Decolonising Museums
Welcome to Museum Archipelago in Your Inbox, which does exactly what it says on the tin. Museum Archipelago, your audio guide to the rocky landscape of museums, is hosted by me, Ian Elsner.
The British Museum's South Asia Collection is full of Indian objects. Dr. Sushma Jansari, Tabor Foundation Curator of South Asia at the British Museum, does not want visitors to overlook the violence of how these objects were brought to the U.K. to be held in a museum.
So for the 2017 renovation of the South Asia Collection, Jansari, who is the first curator of Indian descent of this collection, made sure to create unexpected moments in the gallery. She highlighted artifacts bequeathed to the museum by South Asian collectors and presented photographs of a modern Jain Temple in Leicester, where she's from.
In this episode, Jansari talks about giving visitors the tools to think about the colonial interest in items in the collection, why she started her excellent podcast, The Wonder House (subscribe here), and how not to let the decolonization movement's momentum evaporate.
"The incredible energy that decolonizing museums has right now… it's quite easy for that to evaporate. Every single movement has its moment, and unless we embed these kind of knowledge and approaches, it's going to evaporate." - Sushma Jarsari
Gallery Continues ⏭️
In episode 39 of this show, we examined the history of the British Museum. The story centers around collector Hans Sloane, who assembled an encyclopedic collection of specimens and objects from all around the world. Funded by his marriage into the enslaving plantocracy of Jamaica and aided by Britain's rising colonial power and global reach, Sloane's collection became the basis for the British Museum.
In this episode, James Delbourgo, author of Collecting the World: Hans Sloane and the Origins of the British Museum discusses how Sloane's idea of universal public access to his collections remains radical to this day.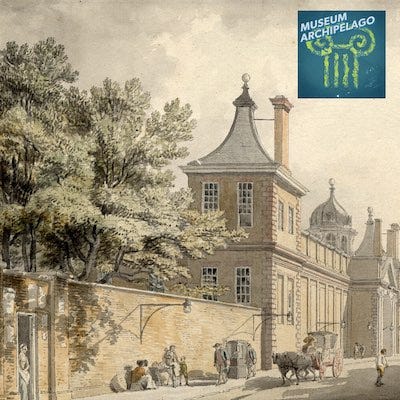 Archipelago at the Movies🎟️ - National Treasure 2: Book of Secrets (2007)
Archipelago at the Movies is bonus series available only on Club Archipelago. Each episode, we dive deep into a movie about museums, and try to understand out what it says about the museum landscape.
This week, we're watching 2007's National Treasure 2: Book of Secrets. The protagonists can't handle the accusation that their ancestors may have done something wrong; it goes against how they see themselves and their country.
Instead of examining his assumptions about the great man theory of history, Benjamin Gates (Nicolas Cage) chases clues through Paris, London, and Mount Vernon, all while charming tourist cops, a Confederate sympathizer, and the U.S. president himself. Special guest Rebecca Reibstein returns to the show to deconstruct this wild ride of a movie. This episode of Archipelago at the Movies🎟️ is now available on Club Archipelago.