79. The Future of Hands-On Museum Exhibits with Paul Orselli
Welcome to Museum Archipelago in Your Inbox, which does exactly what it says on the tin. Museum Archipelago, your audio guide to the rocky landscape of museums, is hosted by me, Ian Elsner.
The modern museum invites you to touch. Or it would, if it wasn't closed due to the Covid-19 outbreak. The screens inside the Fossil Hall at the National Museum of Natural History in Washington, DC say "touch to begin" to an empty room. The normally cacophonous hands-on exhibits at the Exploratorium in San Francisco sit eerily silent.
Museum exhibit developer Paul Orselli says he'll be reluctant to use hands-on exhibits once museums open up again. But he hopes that future hands-on exhibits are more meaningful because museums will work harder to justify their inclusion.
In this episode, Orselli predicts what hands-on exhibits could become, the possibility that the crisis will encourage museums to adhere to universal design principles instead of defaulting to touchscreens, and how Covid-19 might finally put an end to hands-on mini grocery store exhibits in children's museums.
Our visitors could rightfully think that we are insensitive. Not only to those design constraints and those design considerations, but insensitive to them as people who want to have fun and want to be safe. - Paul Orselli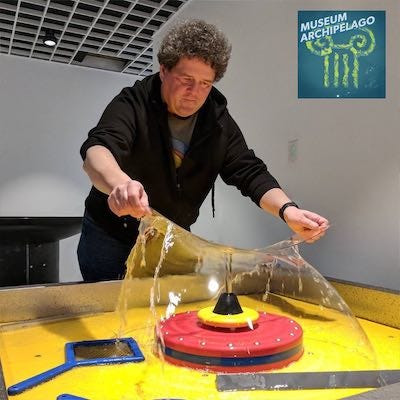 Gallery Continues ⏭️
In this episode, Orselli talks about how the emergence of touchscreens as the default interface for digital interactive media in museums runs counter to the principles of universal design. For some background on universal design and how it differs from accessibility, listen to my interview with Dr. Sherril York, executive director of the National Center on Accessibility and part of the team that renovated the White House Visitor Center in 2012.
Museums and Podcasting: Examining Cultural Power
Back in October I presented my talk, Museums and Podcasting: Examining Cultural Power, at a conference called Sound Education. I outlined the reasons why museums are still seen as trustworthy and why I think that won't last. Over the past week, I put together the video and I was pleasantly surprised that I made some good points. Take a listen!