71. Assessing Curatorial Work for Social Justice With Elena Gonzales
Welcome to Museum Archipelago in Your Inbox, which does exactly what it says on the tin. Museum Archipelago, your podcast guide to the rocky landscape of museums, is hosted by me, Ian Elsner.
71. Assessing Curatorial Work for Social Justice With Elena Gonzales
Museums are seen as trustworthy, but what if that trust is misplaced? Chicago-based independent curator Elena Gonzales provides a solid jumping off point for thinking critically about museums in her new book, Exhibitions for Social Justice.
The book is a whirlwind tour of different museums, examining how they approach social justice. It's also a guide map for anyone interested in a way forward.
In this episode, Gonzales takes us on a tour of some of the main themes of the book, examining the strategies of museum institutions from the Eastern State Penitentiary in Philadelphia to the National Museum of Mexican Art in Chicago.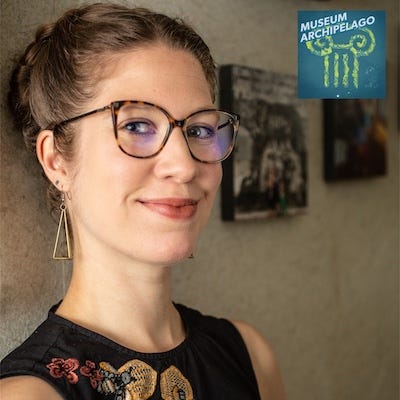 Read the Plaque
My guest appearance on one of my longest-subscribed and most favorite podcasts went live this week! David Sparks and Stephen Hackett were kind enough to have me on to talk about ways I use computers as a museum professional and podcaster on the latest, 89-minute episode of their excellent show, Mac Power Users.
But seriously, don't listen to all 89 minutes. It's super-nerdy and extremely on-brand, and we get lost in discussions of spacecraft, Harry Potter, and how to pack a tiny bag if you need to get important museum work done. If you're just into the museums and not into the technology, you can jump in at 28:26.
Announcing Archipelago at the Movies 🎟️!
Grab your popcorn 'cause Museum Archipelago is going to the movies! Archipelago at the Movies 🎟️ is a new bonus series where we dive deep into movies about museums, and try to understand out what they say about the wider museum landscape.
For the first episode, I'm joined by my talented colleague Ian Kelly to deconstruct 2006's classic museum film, Night at the Museum. It was fun to deconstruct the film, praising some parts, highlighting the more problematic aspects, and generally turning our befuddlement into words. You can listen to a trailer of the episode here, and it is already available exclusively to Club Archipelago members.