67. Cité de l'Espace Celebrates Apollo Day from the Middle of the Space Race 🚀
An excellent new episode this week about the Cité de l'Espace in Toulouse, France and preparations for 'Apollo Day,' their celebration of the 50th anniversary of Apollo 11.

The museum is in the middle of France's Aerospace Valley and the European Space Industry. But it's also geographically in the middle of the two competing superpowers in the Space Race that ended with the Apollo missions.

In this episode, I visit Cité de l'Espace to see how Apollo 11 is presented from the French perspective.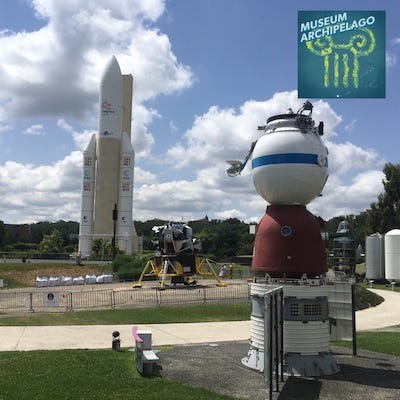 Read the Plaque
Regular listeners know that I'm obsessed with building a museum on the lunar surface at the site of he Apollo 11 landing. Cité de l'Espace does not directly reference a museum at the site, but one of the animations featured in the Exposition Lune - Épisode II gallery (presumably the Apollo Missions were Episode I) accurately rendered what the site would look like today, including a bleached-white American flag and untouched bootprints.

If you're looking for a poetic description of what those lunar landing sites look like today, Michelle Hanlon, a space lawyer who volunteers with For All Moonkind, delivers on episode 32 of Museum Archipelago. Or, if you're looking for something a little more mainstream, she was recently featured on The New York Times.